Contact Us
HuiGoo Optic Co.,Limited
Mob:+86-013510362835
E-m:sales@huigoooptic.com
Skp:sales@huigoooptic.com
QQ:1732357465@qq.com

Address: 8 floor,jinhua building,Longhua New Street,Shenzhen,China
Products
Athermal DWDM AWG 40CH 100G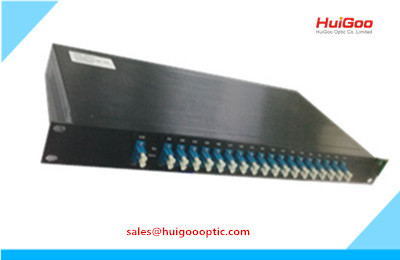 Category: AWG DWDM
Source: Athermal DWDM AWG 40CH 100G
Driver: HuiGoo Optic Co.,Limited
Housing: Athermal DWDM AWG 40CH 100G

Inquiry now
or

Send email
We highly appreciate your feedback.
TEL: +86-013510362835
E-mail: sales@huigoooptic.com
Product Details
Contact Form
Recommend Products
Athermal DWDM AWG 40CH 100G

HuiGoo offers a full range of Thermal/Athermal AWG products, including 50GHz, 100GHz and 200GHz Thermal/Athermal AWG. Here we present the generic specification for the 40-channel 100GHz Gaussian Athermal AWG (40 channel AWG) MUX/DEMUX component supplied for use in DWDM system.
Features

Low Insertion Loss

Established silica-on-silicon

Low PDL

Low chromatic dispersion

Telcordia GR-1221-CORE qualified

Applications

DWDM transmission

Wavelength Routing

Optical add/drop multiplexing
Specifications
.
Parameter
Specification
MIN
Typ
Max
Number of Channels
40
Number Channel Spacing(GHz)
100
Cha. Center Wavelength(nm)
C-Band
Clear Channel Passband(GHz)
±12.5
Wavelength Stability(nm)
±0.005
-1 dB Channel Bandwidth(nm)
0.4
-3 dB Channel Bandwidth(nm)
0.24
Optical Insertion Loss at ITU grid(dB)
4.5
6.0
Isolation(dB)
Adjacent
25
Non-Adjacent
29
Total Channel Isolation
22
Insertion Loss Uniformity(dB)
1.5
Directivity(Mux Only)(dB)
40
Insertion Loss Ripple(dB)
1.2
Optical Return loss(dB)
40
PDL/Polarization Dependent Loss in Clear Channel Band(dB)
0.3
0.5
Polarization Mode Dispersion(ps)
0.5
Maximum Optical Power(mW)
23
MUX/DEMUX input/ output Monitoring range(dB/℃)
-35
+23
Operating Temperature(℃)
-5
+25
+65
Operating Humidity(%RH)
5
95
Storage Temperature(℃)
-40
+85
Storage Humidity(%RH)
5
95
Package Size(mm)
L120×W70×H10
Size between screws(mm)
110 x 60
​
1、IL Represents the worst case over a +/-0.01nm window around the ITU wavelength;
2、PDL was measured on average polarization over a +/- 0.01nm window around the ITU wavelength.
Athermal DWDM AWG 40CH 100G PDF
If you are interested for our products, pls feel free to contact us. TEL:+86-013510362835. Email: sales@huigoooptic.com