Contact Us
HuiGoo Optic Co.,Limited
Mob:+86-013510362835
E-m:sales@huigoooptic.com
Skp:sales@huigoooptic.com
QQ:1732357465@qq.com

Address: 8 floor,jinhua building,Longhua New Street,Shenzhen,China
Products
Wavelength Division Fiber Optic Multiplexer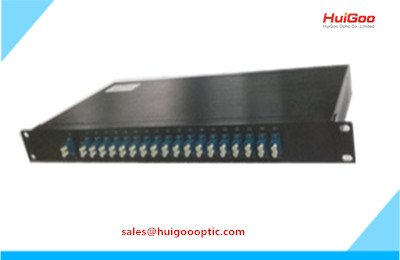 Category: CWDM MUX DEMUX
Source: High Channel Isolation Rack Mount Wavelength Division Fiber Optic Multiplexer
Driver: HuiGoo Optic Co.,Limited
Housing: High Channel Isolation Rack Mount Wavelength Division Fiber Optic Multiplexer

Inquiry now
or

Send email
We highly appreciate your feedback.
TEL: +86-013510362835
E-mail: sales@huigoooptic.com
Product Details
Contact Form
Recommend Products
High Channel Isolation Rack Mount Wavelength Division Fiber Optic Multiplexer 1310 / 1550nm
Descriptions:
Wavelength Division Multiplexer (WDM) is the device which uses multiple optical maser to transmit multi beam of different wavelengths of laser technology through a single fiber. Each signal is transmitted in its unique channel after the data (text, voice, video and so on) modulated. WDM can increase the existing fiber infrastructure for phone companies and other operators.
Wavelength division multiplexing technology as a system concept, there are 3 modes, wavelength division multiplexing at 1310 nm and 1550 nm wavelength, CWDM (Coarse Wavelength Division Multiplexing) and DWDM (Dense Wavelength Division Multiplexing).
Features:
Low insertion loss
Wide pass band
High channel isolation
High stability and reliability
Epoxy free on optical path
Applications:
Line monitoring
WDM network
Telecommunication
Cellular Application
Fiber optical amplifier
Access Network
Specifications:
Operating wavelength(nm)

1260~1620

Center wavelength Accuracy(nm)

±0.5

Channel Spacing(nm)

20

Channel Passband (@-0.5dB bandwidth) (nm)

>13

Insertion loss(dB)

Reflect channel

≤0.6

Pass channel

≤0.4

Insertion loss variation(dB)

<0.3

Channel Ripple

<0.3

Isolation(dB)

Adjacent

>30

Non-adjacent

>40

Insertion loss temperature sensitivity(dB/℃)

<0.005

Polarization dependent loss(dB)

<0.1

Polarization mode dispersion(ps)

<0.1

Directivity(dB)

>50

Return Loss(dB)

>45

Maximum power handling(mW)

300

Operating Temperature(℃)

-20~+70

Storage temperature(℃)

-40~+85

Package dimension(mm)

¢5.5*L34(L38 for 900um loose tube)
Note: All the data above does not include connectors.
Ordering Information
CWDM

Channel Spacing

Pass Channel

Fiber Type

Fiber Length

Connector

C=CWDM Grid

27=1270nm

……

47=1470nm

49=1490nm

……

61=1610nm

1=Bare Fiber

2=900um Loose tube

1=1m

2=2m

3=Customized

0=None

1=FC/APC

2=FC/PC

3=SC/APC

4=SC/PC

5=ST

6=LC
If you are interested for our products, pls feel free to contact us. TEL:+86-013510362835. Email: sales@huigoooptic.com