Contact Us
HuiGoo Optic Co.,Limited
Mob:+86-013510362835
E-m:sales@huigoooptic.com
Skp:sales@huigoooptic.com
QQ:1732357465@qq.com

Address: 8 floor,jinhua building,Longhua New Street,Shenzhen,China
Products
CWDM Optical Add Drop Multiplexer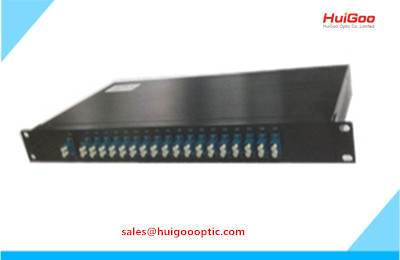 Category: CWDM OADM
Source: CWDM Mux-Demux and Optical Add Drop Multiplexer (OADM)
Driver: HuiGoo Optic Co.,Limited
Housing: CWDM Mux-Demux and Optical Add Drop Multiplexer (OADM)

Inquiry now
or

Send email
We highly appreciate your feedback.
TEL: +86-013510362835
E-mail: sales@huigoooptic.com
Product Details
Contact Form
Recommend Products
CWDM Mux-Demux and Optical Add Drop Multiplexer (OADM)
1U19 inch 8CH CWDM
Description:
HuiGoo offers a full range of CWDM Mux-Demux and Optical Add Drop Multiplexer (OADM) units to suit all kinds applications and network solutions. Some most common ones are: Gigabit & 10G Ethernet, SDH/SONET, ATM, ESCON, Fibre Channel, FTTx and CATV.
HuiGoo's Coarse wavelength division multiplexer (CWDM Mux/Demux) utilizes thin film coating technology and proprietary design of non-flux metal bonding micro optics packaging. It provides low insertion loss, high channel isolation, wide pass band, low temperature sensitivity and epoxy free optical path.
Our CWDM Mux Demux products provide up to 16-channel or even 18-channel Multiplexing on a single fiber. Due the the low insertion loss is needed in WDM networks, we can also add "Skip Component" in a CWDM Mux/Demux module to reduce the IL as an option. Standard CWDM Mux/Demux package type include: ABS box package, LGX pakcage and 19" 1U rackmount.
Features:
• Low Insertion Loss
• Wide pass band
• High Channel Isolation
• High Stability and reliability
• Epoxy-free on Optical Path
• Access Network
Applications:
• Line Monitoring
• WDM Network
• Telecommunication
• Cellular Application
• Fiber Optical amplifier
• Acess Network
Performance Specifications for 8+1-CH CWDM Module:
Parameters

8+1-CH Mux

8+1-CH Demux

Channel Wavelength (nm)

1270-1610 or 1271-1611

Center Wavelength Accuracy (nm)

± 0.05

Channel Spacing (GHz)

20nm

Channel Passband (@-0.5dB bandwidth (nm)

± 7.5 / ± 6.5

Insertion Loss (dB) (Without skip component)

≦ 2.8

Insertion Loss (dB) (With skip component)

≦ 2.0

Channel Uniformity (dB)

≦ 0.6

Channel Ripple (dB)

≦ 0.3

Isolation (dB)

Adjacent

≧30

Non-adjacent

≧40

Express Port

≧12

Insertion Loss Temperature Sensitivity (dB/°C )

≦ 0.005

Wavelength Temperature Shifting (nm/ °C )

≦ 0.002

Polarization Dependent Loss (dB)

≦ 0.1

Polarization Mode Dispersion (ps)

≦ 0.1

Return Loss (dB)

≧50

Directivity

≧45

Max Power Handling (mW)

300

Operating Temperature (°C)

-40 ~ +85

Storage Temperature (°C)

-40 ~ +85

Package Dimension (mm)

L100 X W80 X 10
Note: All parameters are for device without connectors.
Ordering Information:
CWDM

X

XX

X

XX

X

X

X

Channel Spacing

Number of Channels

Configuration

1st Channel

Fiber Type

Fiber Length

In/Out Connector

C=CWDM Grid

04=4-CH

08=8-CH

16=16-CH

18=18-CH

N=N-CH

M=Mux

D=Demux

27=1270/1271nm

……

47=1470/1471nm

49=1490/1491nm

……

61=1610/1611nm

SS=special

1=Bare fiber

2=900um loose tube

3=2mm Cable

4=3mm Cable

1=1m

2=2m

S=Specify

0=None

1=FC/APC

2=FC/PC

3=SC/APC

4=SC/PC

5=ST

6=LC

S=Specify



If you are interested for our products, pls feel free to contact us. TEL:+86-013510362835. Email: sales@huigoooptic.com