Contact Us
HuiGoo Optic Co.,Limited
Mob:+86-013510362835
E-m:sales@huigoooptic.com
Skp:sales@huigoooptic.com
Address: 8 floor,jinhua building,Longhua New Street,Shenzhen,China
Products
Polarization Maintaining Filter WDM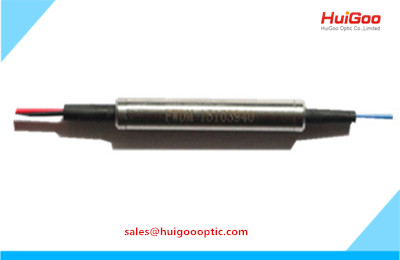 Category: FWDM
Source: Polarization Maintaining Filter WDM
Driver: HuiGoo Optic Co.,Limited
Housing: Polarization Maintaining Filter WDM

Inquiry now
or

Send email
We highly appreciate your feedback.
TEL: +86-013510362835
E-mail: sales@huigoooptic.com
Product Details
Contact Form
Recommend Products
Polarization Maintaining Filter WDM
1.Description:
The PM FWDM provides wavelength division multiplexing while maintaining signal polarization. The PM FWDM is characterized with low insertion loss,high return loss,high extinction ratio and excellent environmental stability and reliability. It is ideal for high speed WDM network systems.
2.Features:
High Isolation
Low insertion loss
High Extinction Ratio
Excellent Envionment Stability and Reliability.
3. Applications:
Fiber Lasers
Optical Amplifier
WDM Network System
4.Specifications:
Parameter

T980/R1060

T1550/R980

T1480/R1550

Transmission

Operating Wavelength(nm)

960-990

1530-1570

1460-1500

Insertion Loss(dB)

≦1.0

≦0.7

≦0.7

Isolation

≧25

reflection

Operating Wavelength(nm)

1040-1080

960-1000

1530-1570

Insertion Loss(dB)

≦0.8

≦0.8

≦0.6

Isolation

≧12

Extinction Ratio(dB)

≧20

Return Loss(dB)

≧50

Power Hanging(mW)

≦300

Operating Temperature(℃)

-5∽+70

Storage Temperature(℃)

-40∽+85

Fiber Type

PM for com and Pass port.PM or SMF-28E/Hi1060 for Pump port

Package Dimensions(mm)

⊙5.5×L35
5.Order Information:
Port

Operating Wavelength

Fiber Type

Fiber Length

Connector

1×2

980=6T980/R1060

0=SMF-28E

4=others

0=250um

1=900um

2=2m

3=3m

4=others

0=None

1=FC/APC

2=FC/PC

3=SC/APC

4=SC/PC

5=ST 6=LC
Polarization Maintaining Filter WDM
If you are interested for our products, pls feel free to contact us. TEL:+86-013510362835. Email: sales@huigoooptic.com